MANITeX has established partnerships with experienced international companies offering 'best of breed' IT software components and tools to the Health market, as follows:
CompuGroup Medical – EndoRAAD Integrated Endoscopy Clinical Information System.
CompuGroup Medical with Revenues of ~ € 500 million is one of the leading eHealth companies in the world. Its software products are designed to support all medical and organizational activities in doctors' offices, pharmacies, laboratories and hospitals. Its information services for all parties involved in the healthcare system and its web-based personal health records contribute towards safer and more efficient healthcare.
CompuGroup Medical's services are based on a unique customer base of over 400,000 doctors, dentists, hospitals, pharmacies and networks as well as other service providers. With locations in 19 countries and customers in 43 countries worldwide, CompuGroup Medical is the eHealth company with one of the highest coverage among eHealth service providers.
Approximately 4,000 highly qualified employees support customers with innovative solutions for the steadily growing demands of the healthcare system.
Dimensional Insight Inc. – The Diver Solution Business Intelligence Tools, which Manitex has used to develop HealthDIVER and EndoDIVER, that provide all manner of information from the Hospital and Endoscopy databases.
Dimensional Insight is a leading provider of integrated business intelligence and performance management solutions that empower information consumers throughout the enterprise with data-driven decision making abilities. Their worldwide presence has allowed them to service the information delivery needs of more than 2,600 customers and thousands of users from around the globe. DI's cost-effective BI platform rapidly delivers performance dashboards, self-service reporting, ad hoc analytics, and data integration capabilities to support any technical or user-defined requirement.
With their HQ in Boston, Dimensional Insight has been successfully marketing the Diver Solution™ to organisations in the U.S., Canada, Europe, Australia and the Far East, achieving impressive gains in revenues year on year.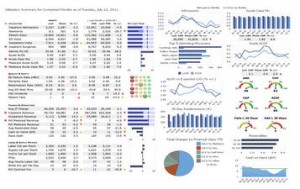 The Diver Solution is widely used around the world to provide management information to Healthcare providers (USA, France, Scandinavia, Ireland, etc).
For the 5th year running the Diver Solution™ has again been named the top performer among business intelligence software in a report issued by KLAS, an independent research firm that monitors vendor performance within the US Healthcare IT (HIT) marketplace.
The BARC BI Survey is the world's largest and most comprehensive independent survey of business intelligence end-users. For the 4th straight year Dimensional Insight outscored all major BI vendors — including IBM/Cognos, Information Builders, Microsoft, MicroStrategy, Oracle, QlikTech, SAP/Business Objects and Tableau — in numerous key categories.


Manitex is a member of the Diver BI Group, which is a collaboration of Diver BI experts in the UK and Ireland. Together they provide a significant range of expertise from various industries to ensure the best BI solution is provided to any organisation.